"Unveiling Deception: 'A Haunting in Venice' Character Posters Challenge Suspicion"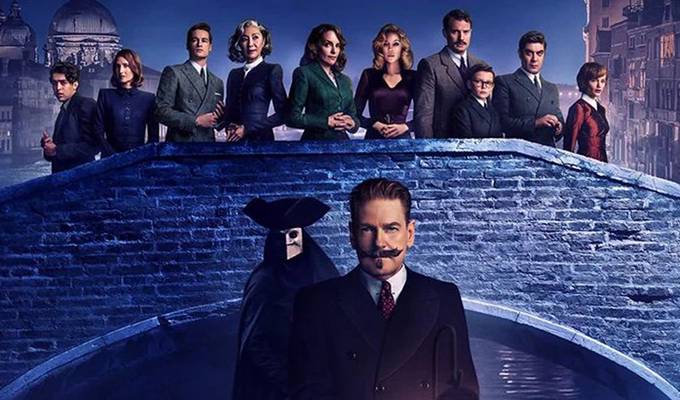 Venice, Italy – In a thrilling twist for moviegoers and mystery enthusiasts alike, the upcoming psychological thriller film, A Haunting in Venice, has taken an innovative approach to its promotional campaign by releasing character posters that blur the lines between protagonists and potential culprits. The posters, unveiled yesterday by the film's production company, have left fans intrigued and eager to delve deeper into the enigmatic narrative.
The film, directed by acclaimed filmmaker Isabella Moretti, is set against the mesmerizing backdrop of Venice's intricate canals and historic architecture. Known for her mastery of suspenseful storytelling, Moretti has crafted a tale that intertwines elements of suspense, mystery, and psychological intrigue.
What sets A Haunting in Venice apart is its unconventional approach to character presentation. Instead of showcasing the typical hero-villain dynamic, the character posters portray each member of the cast in a suspicious light, complete with cryptic taglines that hint at their potentially nefarious motives.
The posters depict the main characters in various intriguing scenarios – a renowned art historian caught in a dimly lit alleyway, a charming gondolier with a secretive smile, an elusive heiress holding a mask that seems to hide more than just her identity, and a brilliant detective staring off into the distance, seemingly lost in his thoughts.
This unique marketing strategy has ignited a wave of excitement on social media platforms, where fans are engaging in intense discussions and speculation. The taglines accompanying each poster – "Secrets can be deadly," "Every reflection hides a truth," "In a city of masks, who can you trust?" – have prompted fans to dissect every detail, analyzing the posture, expressions, and surroundings of each character to uncover potential connections and motives.
Producer Marco Rossi stated, "We wanted to capture the essence of the film's intrigue and psychological complexity in our marketing. The character posters invite the audience to question everything, to become armchair detectives themselves."
The film's ensemble cast includes notable actors such as Alessandra Bianchi, Matteo Romano, Isabella Martinez, and Luca Ferretti. Their performances are expected to add layers of depth to the already intricate storyline, ensuring that audiences will remain on the edge of their seats throughout the film.
As the release date for A Haunting in Venice approaches, fans are eagerly anticipating the unveiling of the mystery lurking beneath the city's romantic façade. With the character posters successfully creating an air of suspense and uncertainty, it's clear that audiences will be in for a thrilling cinematic experience that challenges their perceptions of trust and deception.
Editor's Note: 'A Haunting in Venice' is scheduled to hit theaters on October 13, just in time to add an extra layer of mystery to the Halloween season.
For more updates and behind-the-scenes glimpses, follow @HauntingInVeniceMovie on social media platforms.