"The Truth Behind the Batman Casting Rumor: James Gunn Sets the Record Straight"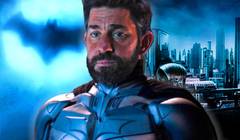 In the ever-evolving world of superhero cinema, fans are always on the lookout for the latest casting rumors and updates. One such rumor concerning the future portrayal of Batman in the DC Extended Universe (DCU) had been circulating like wildfire, leaving fans eagerly anticipating an official announcement. However, this speculation has now been put to rest by none other than James Gunn, the acclaimed director of "The Suicide Squad."
The rumor mill went into overdrive when whispers began circulating online about a potential new actor stepping into the iconic role of the Dark Knight. With Ben Affleck's tenure as Batman in the DCU coming to a close, fans were anxious to learn who would don the cape and cowl next.
Fueling the fire was a cryptic tweet posted by a reliable entertainment insider, which hinted at a groundbreaking casting choice for Batman. Twitter exploded with speculation and excitement as fans speculated about the potential candidates to play Gotham's vigilante.
However, as anticipation reached its zenith, James Gunn, known for his work on both the "Guardians of the Galaxy" and "The Suicide Squad" films, took to social media to clarify the situation.
In a series of tweets, Gunn addressed the rumors head-on, stating, "While I always enjoy the enthusiasm and passion of fans, I can assure you that the Batman casting rumors circulating online are not based on any credible information." He continued, "As far as I know, no official decisions regarding the next Batman have been made, and any reports suggesting otherwise should be taken with a grain of salt."
Gunn's comments swiftly spread across social media platforms, tempering the excitement but also urging fans to be patient for an official announcement from DC and Warner Bros. Pictures.
This revelation puts the Batman casting speculation firmly back into the realm of uncertainty. With no concrete information available, fans will have to continue their wait to see who will take up the mantle of the Caped Crusader in future DCU films.
The Batman casting saga remains one of the most closely watched developments in the superhero film world, and fans will undoubtedly be keeping a keen eye on any future announcements that may come from the studios involved.
For now, the identity of the next Batman remains a mystery, and DC fans will have to continue their vigil as the DCU's future continues to unfold.