"Heartstrings and Magic: I'm in Love With the Villainess Anime's Mesmerizing Promo Video Unveiled"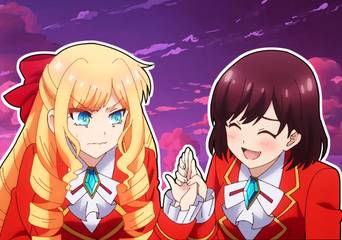 In a much-anticipated development for fans of the yuri isekai genre, "I'm in Love With the Villainess" has dropped a captivating new promotional video that is setting the anime community abuzz with excitement.
The promotional video, released earlier today, provides an enticing glimpse into the upcoming anime adaptation of the popular light novel series by author Inori and illustrator Hanagata. As the story unfolds, we see the main characters, Aileen and Katarina, in various heartwarming and intense moments, promising a captivating exploration of love, fantasy, and gender-bending intrigue.
"I'm in Love With the Villainess" has been making waves even before its anime adaptation was announced. The light novel series gained immense popularity for its fresh take on the isekai genre, featuring a unique blend of romance and fantasy elements, with a focus on relationships between female characters.
The story follows Aileen, a modern-day woman who inexplicably finds herself transported into the world of her favorite otome game, where she takes on the role of the villainess. Her mission? To win the love of Katarina Claes, the game's protagonist, and steer the narrative away from its doom-filled course. However, Aileen soon discovers that things may not be as simple as they seem, as she finds herself falling head over heels in love with the very villainess she's supposed to oppose.
The new promotional video offers a sneak peek into the stunning animation, vibrant character designs, and captivating narrative that fans can expect from the upcoming anime adaptation. The voice acting talents of the cast, which includes some well-known names in the industry, were also showcased, further enhancing the anticipation surrounding the series.
"I'm in Love With the Villainess" is poised to be a significant addition to the yuri anime genre, which has seen growing popularity in recent years. It has been praised for its representation of LGBTQ+ relationships and its innovative approach to isekai storytelling.
Fans on social media have been quick to share their enthusiasm, with the hashtag #VillainessLovePV trending worldwide. Many are counting down the days until the anime's premiere, which is scheduled for next month.
As the hype continues to build, "I'm in Love With the Villainess" stands as a testament to the anime industry's commitment to diverse storytelling and the ever-expanding horizons of the isekai genre. With a promising promotional video fueling excitement, fans eagerly await the day when they can immerse themselves in Aileen and Katarina's world of love, magic, and adventure.