"DC's Batmen Unite: A Multiverse Crossover Spectacle"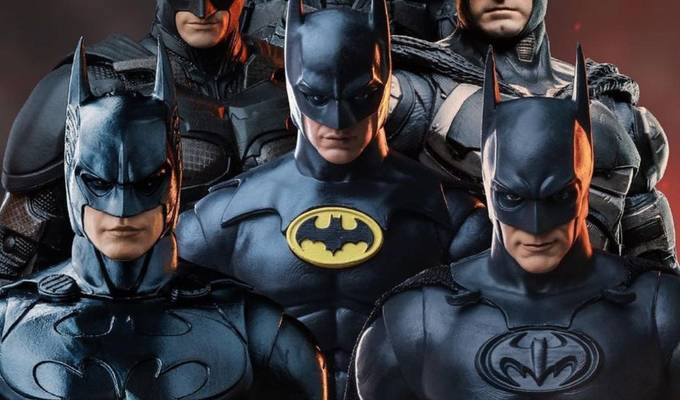 Metropolis, USA — In a groundbreaking announcement today, DC Universe has unveiled a spectacular crossover poster featuring six iconic live-action versions of Batman in a Spider-Verse style multiverse event. This unprecedented collaboration is set to send shockwaves through the comic book and movie industries, promising an unforgettable cinematic experience for fans of the Dark Knight.
The stunning poster, reminiscent of the Spider-Verse crossover event in the Marvel universe, showcases six distinct iterations of Batman from different eras and universes. This ambitious project is a testament to DC's commitment to expanding and exploring the possibilities of its beloved characters.
The Batmans featured in the poster are as follows:
Michael Keaton: Known for his role in Tim Burton's Batman films, Keaton's Batman is a symbol of the late '80s and early '90s Dark Knight era.
Val Kilmer: Kilmer's portrayal in "Batman Forever" captured the spirit of the '90s Batmans with a more light-hearted and flamboyant approach.
George Clooney: Clooney donned the cape and cowl in "Batman & Robin," marking another distinctive chapter in the Batman cinematic legacy.
Christian Bale: Famous for Christopher Nolan's "The Dark Knight" trilogy, Bale's Batman is considered one of the most realistic and gritty adaptations of the character.
Ben Affleck: Affleck's portrayal in the DC Extended Universe (DCEU) films brought a seasoned and older Batman to the forefront.
Robert Pattinson: The latest addition to the Batman legacy, Pattinson's upcoming portrayal in "The Batman" promises a darker, noir-inspired take on the character.
The poster is a visual feast, with each Batman donning their respective suits and standing side by side. The intricate design of the multiverse backdrop hints at a complex and compelling storyline that will unite these diverse Batmans.
While specific plot details remain tightly under wraps, this crossover event is expected to explore the concept of the multiverse, possibly featuring alternate versions of classic Batman villains and allies. With DC Universe's track record for thrilling storytelling and the star power of these iconic actors, fans can expect an epic adventure that transcends time and space.
DC Universe has also teased that this crossover event will pave the way for exciting new directions in the DC cinematic universe, including potential spin-off projects and expanded character arcs.
The release date for this spectacular crossover event has yet to be confirmed, but fans are already buzzing with excitement as they eagerly anticipate witnessing six live-action Batmans sharing the screen for the first time. The DC multiverse is about to get even more intriguing, and fans around the world can't wait to embark on this unprecedented journey into the shadows with their favorite caped crusaders.