"Aquaman and The Lost Kingdom: Unveiling the Oceanic Wonders"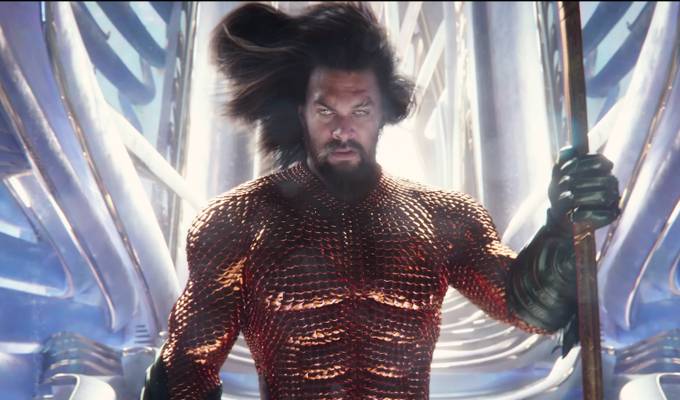 Fans of the DC Extended Universe (DCEU) were treated to an oceanic spectacle as the first trailer for "Aquaman and The Lost Kingdom" made its debut at a major industry event. Directed by James Wan and starring Jason Momoa as Arthur Curry/Aquaman, the highly-anticipated sequel promises to take audiences on an even deeper dive into the underwater world of Atlantis. Here are the four major revelations from the first trailer footage:
1. An Expansive Underwater Universe: The trailer opens with breathtaking shots of the underwater kingdom of Atlantis, showcasing its vibrant and otherworldly landscapes. From bustling underwater cities to mystical ruins, it's clear that "Aquaman and The Lost Kingdom" will explore the depths of this stunning realm like never before. The scale and intricacy of the underwater world are bound to captivate audiences.
2. New and Returning Characters: While the trailer focused primarily on Aquaman, Mera (played by Amber Heard), and Orm (played by Patrick Wilson), it also introduced some intriguing new characters. One notable addition is the mysterious character portrayed by Game of Thrones' Pilou Asbæk, whose identity remains shrouded in secrecy. Fans are buzzing with speculation about this enigmatic figure's role in the story.
3. A Puzzling Artifact: A significant plot point teased in the trailer is the discovery of a powerful and ancient artifact. This mystical object appears to hold the key to a potential threat to both the underwater and surface worlds. The trailer hints at a thrilling quest to protect the artifact and uncover its true purpose, adding an element of intrigue and suspense to the film.
4. Epic Underwater Battles: Fans of Aquaman's signature underwater combat won't be disappointed. The trailer features heart-pounding action sequences, including underwater battles between armies riding giant sea creatures. These visually stunning and action-packed moments promise to be a highlight of the film and a testament to James Wan's expertise in crafting cinematic spectacles.
As the DCEU continues to expand and evolve, "Aquaman and The Lost Kingdom" appears to be a promising installment that delves deeper into the rich mythology of the character and his underwater world. With its dazzling visuals, intriguing storyline, and an ensemble cast that includes returning favorites and new faces, this sequel is poised to make a splash when it hits theaters. Fans will have to wait patiently for the film's release to discover how these revelations play out in the epic underwater adventure.