"Aquaman 2's Behind-the-Scenes Drama Fuels Speculation About Jason Momoa's DCU Future"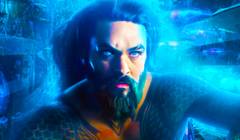 The highly anticipated sequel to 2018's "Aquaman" has recently found itself entangled in a web of unexpected chaos as reshoots for the film have left fans speculating about the future of Jason Momoa's role in the DC Extended Universe (DCU). Rumors are now swirling that Momoa's tenure as the iconic underwater superhero may be coming to an end.
In what was initially intended to be a routine reshooting process to fine-tune scenes, the production of "Aquaman 2: Tides of Destiny" has taken an unexpected turn. Sources close to the production report delays, creative differences between the director and key cast members, and an overall atmosphere of uncertainty that has engulfed the set.
The issues reportedly started when Jason Momoa, who has portrayed Aquaman/Arthur Curry since his introduction in "Justice League" (2017), began expressing dissatisfaction with the direction of his character in the sequel. Momoa, known for his passionate dedication to the role, felt that certain aspects of the script were undermining Aquaman's character development.
This dissatisfaction led to heated debates between Momoa and the film's director, James Wan. While both have been key figures in the success of the Aquaman franchise, it appears that their visions for the character have diverged significantly, causing a rift in the creative process.
The situation escalated when it became evident that reshoots were not addressing the underlying issues, and production delays were piling up, threatening the film's release date. Insiders now suggest that Warner Bros. is considering its options, including a potential recasting of the Aquaman character.
While no official announcement has been made regarding Momoa's departure from the DCU, these ongoing issues have fueled speculation among fans and industry insiders alike. Some fans have expressed concerns about how a potential recasting could impact the franchise's continuity, given Momoa's popularity in the role.
DCU fans are no strangers to casting changes, with Ben Affleck stepping down as Batman and Henry Cavill's Superman future remaining uncertain. However, the recasting of a character as iconic as Aquaman would undoubtedly be a significant development for the cinematic universe.
As of now, Warner Bros. remains tight-lipped about their plans for "Aquaman 2" and the character of Aquaman in the broader DCU. With reshoots still ongoing and the film's release date looming, it's uncertain how this behind-the-scenes turmoil will ultimately affect the fate of Jason Momoa's Aquaman. Fans will be eagerly watching for any official announcements regarding the future of the franchise.